Timaru's Nazi Tree
October 6, 2018
By Anarchist History of New Zealand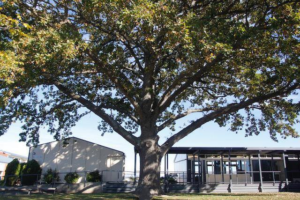 The 'Hitler Oak', aka Lovelock Oak, stands at Timaru Boys' High School. It was gifted as a sapling to, old boy of the school, running champion Jack Lovelock by Nazi Germany.
After the 1936 National Socialist Olympic Games in Berlin, Jack came back (see previous post) for a visit bringing the oak. Surprisingly, the tree has survived anti-Nazi sentiment. I think it is a symbol of the ashes in the mouth the victory represented to Lovelock, so when it finally dies he might rest in peace.
Good article here from Giles Dexter (2016)..
"The Nazis, before they committed themselves to wholesale genocide, were surprisingly staunch advocates of the green movement,.."
It doesn't surprise an Anarchist one little bit! And no different today.
Post syndicated from http://ahnz.anarkiwi.co.nz/timarus-nazi-tree/.