Rob's Birthday
September 24, 2018
By Anarchist History of New Zealand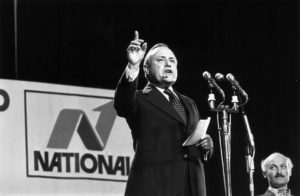 25 September, 1921: Prime Minister Robert Muldoon's birthday. He would have been 97yo if alive today.
Feisty, Protectionist Populism? New Zealand Tried That
"What would you think of a Western democratic leader who was populist, obsessed with the balance of trade, especially effective on television, feisty and combative with the press, and able to take over his country's right-wing party and swing it in a more interventionist direction?

"Meet Robert Muldoon, prime minister of New Zealand from 1975 to 1984. For all the comparisons of President Donald Trump to Mussolini or various unsavory Latin American leaders, Muldoon is a clearer parallel case.

Tyler Cowen, Bloomberg (2017)
I'm a bit of a fan of Tyler Cowen and Barry Gustafson but my review of the Muldoon years differs significantly. He's no Donald Trump. He was a Frankenstein Juggernaut created to take on an Incredible Hulk. Prime Minister The Hulk (Kirk) had a heart attack and died, leaving only one titan standing.
Rob started off obsessed by the balance of trade but soon after acquiring power he yielded to deficit financing- which is what everyone wanted. As time wore on he caught the disease all politicians get which is to do anything to hold onto their power.
Post syndicated from http://ahnz.anarkiwi.co.nz/robs-birthday/.