No serotonin for you, Boomer!
August 23, 2018
By Anarchist History of New Zealand
Date: [ca 26 January 1944]
An absolute disaster for parent/child attachment. Great if you don't want to be with your newborn for 14 days during that crucial bonding time. No serotonin for you! Just visits from the wheelbarrow to be used as a milk machine.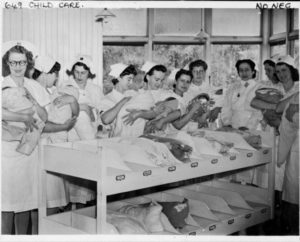 Not great for more old school mothers (and new school too) who wanted contact with their young. Some, perhaps most, mothers must have been in hysterics to hav
e this institution of silly hats and breast clocks (perfect metaphore!) prying them away from their babies.
Thank goodness today parents have a choice. This brings up a debate that must have been had c.100 years ago to colonise whanau-based midwifery with western medicine. Not just Maori whanau either but the settler's practise of having elders of the community to act as midwives. The same debate that must have been had in the late 1970s to change it back again.
Remember, just because Kiwis didn't have wheelbarrows and silly hat brigades does not mean they had no 'support systems'.
I suppose silly old Lord Plunket and Truby-King are to blame for what's happening in this picture.
—
Image: http://natlib.govt.nz/records/22439881
Syndicated from http://ahnz.anarkiwi.co.nz/no-serotonin-for-you-boomer-3/