Kaiapoi Customary Rights Torn Up
November 2, 2018
By Anarchist History of New Zealand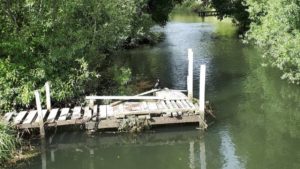 Illegal structures along the Cam River in North Canterbury will be targeted in a pilot project aimed to improve safety.- Stuff
Common Law and Customary Rights are not for the people of Kaiapoi then. These structures have been used since settlement but it takes the current wave of PC to smash 'em.
The Environment Canterbury (ECan) project comes in response to concerns raised by local residents.
I highly doubt it. Oh, they would have found some patsy to complain but in my opinion this is simply a police action.
If the pilot project is successful it could be replicated throughout Waimakariri's waterways and across Canterbury.
I like how the statist euphemism "project" is used 7 times in the article. Makes it sound like they're not the mafia come to break up local traditions going back to the 1850s.
Kaiapoi families have as much right to these fishing weirs as Foveaux Strait muttonbirders under customary title. However, if they don't unite and organise now then The State will take that away.
—
Image ref. Stuff
Post syndicated from http://ahnz.anarkiwi.co.nz/kaiapoi-customary-rights-torn-up/.