Hugh Hefner
September 28, 2018
By Anarchist History of New Zealand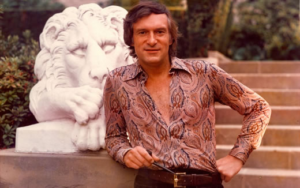 Today in history: Death of Hugh Hefner (27 Sep 2017) Founded Playboy magazine in 1953.
New Zealand probably always will be a cultural colony of Britain and the USA, dependent on these countries for ideas and entertainment, and for political thought. So, Hefner and the sexual revolution abroad reverberated over here.
The magazine probably found its way here long before it was republished from Australia, 1979. Under pressure from a new wave of content and attitudes in the sixties, the Indecent Publications Tribunal was created in 1964 just in time to help the National Party capture the authoritarian vote for their re-election. From here on the Minister of Justice (trusty Ralph Hanan at this time) picked out a crack team to read Playboy etc. to ensure it was decent for the rest of us.
Hefner is important because his life isn't just a life. A celebrity life acts as a telltale of what is permissible within a culture. Especially for people who can't think for themselves, this sort of proxy is essential.
Hefner was the quintessential neotonous icon, the old man who plays at being a youth on a grand public scale. Has this ever been so permitted and sanctioned this side of Rome's fall? He was watched to see how his life panned out and used as a guiding star for the very many who followed his example.

Post syndicated from http://ahnz.anarkiwi.co.nz/hugh-hefner/.