Admiral John Stokes
August 27, 2018
By Anarchist History of New Zealand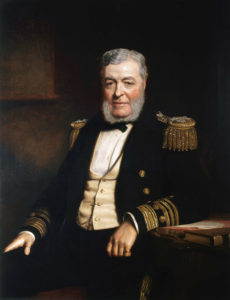 Captain Stokes (later promoted) did a great deal for New Zealand in the service of the/our Royal Navy. His Star Trek-like four year mission: To chart our coasts, settle disputes with Maoris and settlers, and to boldly record New Zealand's natural resources.
Between 1848–1851 the crew of the HMS Acheron must have been a great help to early Kiwis and the Sir George Gray's State. Nobody had done mapping like this since Captain Cook.
This was Stokes' third and final visit to New Zealand. On his first trip here he shared his cabin with Charle Darwin on The Beagle. Part of his cartography work involved surveying and naming parts of Auckland Harbour.
This one of his, drafted in 1857, shows two tell-tale features which I have run a circle around; Acheron Point and Stokes' Point. Today these are more or less where The Auckland Harbour bridge crosses the harbour.
Why Stokes Point is called Stokes Point I cannot find online or in any books. It is my very strong opinion that the Point was due recognition for our resident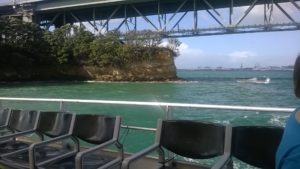 captain who also has a sea snake and a skink named for him (some thanks, that.) While the little bump of land under the bridge does retain the name, Stokes Point as a neighbourhood was switched out by the Settlers in the 1880s for the name Northcote. Perhaps they did not remember, or did not care, about the more fitting honoured figure they were replacing?
UPDATE: Judith Christmas writes in A History of Northcote that Felton Mathew had named the locality Point Rough. Stokes changed it to Stokes' Point, avoiding potential confusion with "Rough Rock in the Rangitoto Channel…Stokes Point remained the name of the whole area until 1883, when it became Northcote Point. It is usually accepted that the name was changed in honour of Sir Stafford Northcote…at the instigation of Major Benton, a prominent citizen in the area at that time."
Acheron Point remains today but the older name of Point Fisher seems to have stuck and the whole place is swallowed up by Westhaven Marina.
—
Image ref. Stokes Point today; Me, 2016
Ref. Great Britain. Hydrographic Office; NZ National Library
Ref. J. Stokes; Wikipedia
Image ref. "Admiral John Lort Stokes, 1812-1885" Courtesy of the National Maritime Museum, Greenwich, London; Wikipedia
Ref. p5, Northcote : A Background History, Judith Christmas (1981)
Post syndicated from http://ahnz.anarkiwi.co.nz/admiral-john-stokes/.