1987: Te Morehu Cairn
January 2, 2019
By Anarchist History of New Zealand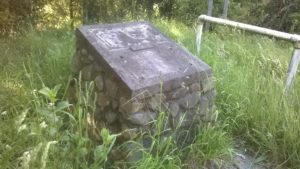 Taking the long way back to Auckland from the Coromandal I spied this interesting neglected monument. There was no chance to stop or go back or a consensus to do so which is why I should always be driving to avoid such oversights. So, I made a point to explore this marker along Kawakawa-Orere Rd a few weeks ago. What could it be?
Blank, as it turns out! An overgrown pad of concrete, decaying bench, a track to nothing, a rubbish bin that must only remain and get cleared because of an oversight of nobody having thought to take it off some old list. Could this site have once been a village or a logging camp?
Te Morehu Reserve
Judith Narbey of Clevedon & Districts Historical Society was able to name the reserve being memorialised and point me to the right book with the answers I sought. Tried to sell it to me, which only shows she's the legit Secretary/Treasurer for this society. Thus we learn…
The reserve owes its name Te Morehu (the survivor) to the memory of Edward Marsh, a faithful and respected friend of Captain Humphrey-Davies. He was said to be the last of a tribal line that may have owned land on Waiheke Island- p 90, Du Feu (2007)
Between Cap. George Humphrey-Davies (1939) and Antony Rowlands (1945) private donations, Te Morehu Reserve came to be. The plaque was vandalised but replaced in the 1980s with this cairn which itself has been stripped of text multiple times. Seems that someone has an obscure hobby stretching over many years.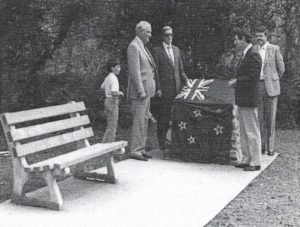 21 March 1987, Bill Birch et al unveil the cairn
It may be that the dying wish of Mrs Ethel Humphrey-Davies in 1938 prompted the 1939 donation more than her husband's initiative. A Californian, she had fallen in love with her patch of New Zealand but left the land to her American relations not her husband¹.
The ambition of the community in 1987 was to build a viewing platform organised and paid for locally. The State prohibited this, probably because they're control freaks and wont do anything or let anything be done unless they can get some piece of the action. To this day there's nothing but wild goats and secret cannabis plots in the 52 hectares of mostly inaccessible waste land of native bush.
It escapes me who this Te Morehu guy was. For a Maori to take the English name 'Edward Marsh' seems to connect to Henry Williams who dispensed this name to Eruera Maihi Patuone and his own son. Marsh was a mentor to Williams back home. Could it be that old Patuone passed his own name on to a son or adopted son who then befriended Humphrey-Davies? Perhaps if this monument hadn't been messed with we'd know.
—
1 The floating world of Captain Humphreys-Davies; NZ Design History
Ref. Orere, The Story of a Small Community; Du Feu (2007)
Post syndicated from http://ahnz.anarkiwi.co.nz/1987-te-morehu-cairn/.