1934: First Waitangi Day
January 6, 2019
By Anarchist History of New Zealand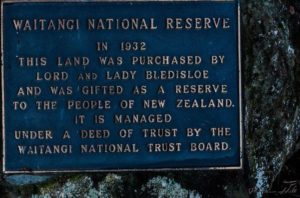 Until 1932, the Waitangi Treaty Grounds and the Treaty House were in a shambles. The Governor General and his wife were appealed to and in a private act of charity purchased Waitangi along with 1000 acres of land as part of the estate. In 1934 all was ready for New Zealand's first Waitangi Day.
This Bledisloe couple formally gifted Waitangi, along with £500, to the people of New Zealand as a national monument and reserve. A team was put together to make sure the house stood up, the lawns cut etc and this was called The Waitangi National Trust.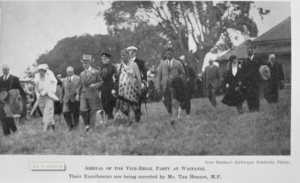 The plaque outside the Treaty House reads,
"This land was purchased by Lord and lady Bledisloe and was gifted as a reserve for the people of New Zealand."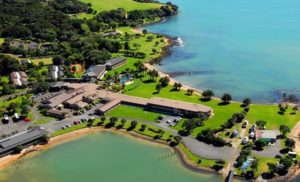 From 1934 until 2015 this was your admission ticket. After all, The Trust's substantial land holdings return sufficient revenue to cover costs. Apart from a secret portfolio of investments, the estate supports rent-paying farmers and the Copthorne Hotel.
Least this income be insufficient, in 2014 an estimated 100,000 visitors pa were paying $14 each for admission give or take less for children or more for tourists. For the previous 80 years The Trust got by without any such fees but since initiating* the charge in 2014 the fee has now gone up to $25 for an adult New Zealander to visit the site of 'the birth of our nation'.

This certainly is a bizarre perversion of what the Bledisloes set in motion. It was supposed to be a self-supporting reserve and monument for us all, not an insanely lucrative business venture for a secretive few of the political class. It is as if the Bledisloe Cup (another initiative from this GG) were somehow seized by its polisher/keeper/engraver as property then rented out to the people it belonged to for a fee…or does that happen as well? You just wouldn't know these days.
—
* There was a period in the 1990s where The Grounds first became a business and restricted to business hours along with a charge of $5
Image ref. Plaque, theresa-hall.com
Image ref. Copthorne Hotel, Bay of Islands
Image ref. waitangi.org.nz/experiences/waitangi-treaty-grounds-day-pass
Image refs. Auckland Librarys Image Collections
– New Zealand Railways Publicity Photograph; The GG presenting the grounds in 1934
– Staff Photographer Auckland Weekly News; Waitangi 1934 viewed from the air
Post syndicated from http://ahnz.anarkiwi.co.nz/1934-first-waitangi-day/.