1834: Busby's Shingle
January 6, 2019
By Anarchist History of New Zealand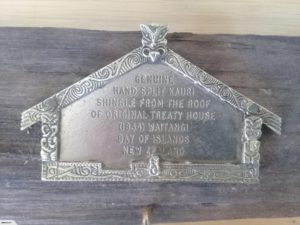 Mr Zam has made another exciting discovery on the Online Free Market Museum known as Trade Me's Antiques & Collectables section.
Genuine hand split kauri shingle from the roof of original treaty house ( 1834 ) Waitangi Bay of Islands New Zealand.
It may date from 1934 when the Treaty House got a much needed renovation. The place was falling down from neglect when Lord Bledisloe purchased the Grounds, including the house, and put 500 pounds toward appeal for the restoration.
Flogging off the old tiles might have been a clever way to raise some more money for the big fix up. Thanks to Bledisloe setting up a trust this special area of national significance was gifted to  the people of New Zealand forever more The State, who took over the trust and started charging everyone an arm and a leg to visit what belongs to them. Us. You!
Could be wrong. Just spit-ballin'. But it does look fairly 1930s doesn't it?
Post syndicated from http://ahnz.anarkiwi.co.nz/1834-busbys-shingle/.