1772: Marion Du Fresne's Massacre
January 3, 2019
By Anarchist History of New Zealand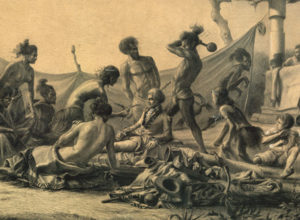 Marc-Joseph Marion du Fresne was an early French explorer to New Zealand, visiting the Bay of Islands in May 1772. Initially, the crew of the two ships he commanded got on really well with the local Maoris. Then, without warning, de Fresne and 27 of his men were betrayed in an ambush and massacred then eaten.
Nasty wake-up call for the French! They re-group and get their own back on some 1,500 Maori warriors which, if nothing else, helps Maoris fear the French more than the English in future.
In the above painting from the 1840s* the scene centred on a trusting white man is poised for a violent re-evaluation of the Noble Savage conception of Maoris. As a commenter put it yesterday…
It is interesting to observe the Maori seemingly portrayed in the 1860ish crayon drawing by Meryon shown here are all knaves… evil faces, and one is about to bonk said Captain in his nut. And the so- called Marae building in the background has Ionic columns!

Yet when Du Fresne visited, Maori were regarded as Noble Savages, after Rousseau. In the drawing done almost a century after the massacre at Te Hue, they are instead shown as Savages, perhaps reflecting how Pakeha/ Euro NZers redefinded indigenous people here, once their population overtook the native population.- Chris Talbot Wilkie comment
Yeah it might be a redefinition innate to a demographic population ratio rebalancing. It might be a cognitive judgement generated out of subconscious instincts about how many European boots were on the ground.
Or, here's another suggestion..
Maybe that Romantic Noble Savage Frenchy SJW 1770s dream melted under the lived experience of being betrayed, ambushed, massacred, and eaten by Papa Smurf and his thousand deadly minions?
What do you think about that explanation for the changed aesthetic representation of Maoris?
Artists, sheesh! Am I right?
—
* The library says 1840s. I don't know why Wilkie prefers 1860
image ref. Meryon; Alexander Turnbull Library
Post syndicated from http://ahnz.anarkiwi.co.nz/1772-marion-du-fresnes-massacre/.