1642: Continents Suspected Deep in the South
December 11, 2018
By Anarchist History of New Zealand
Able Tasman's written instructions from Dutch East Indies Company..
"It is well-known that the southern regions are peopled by fierce savages"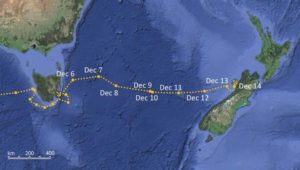 Wow! Well known? This sort of information is tantalising to me. What did the West know about New Zealand before Tasman? Nothing?
Could the above remark simply be a generalisation about South Pacific hospitality, not particular to our islands?
More posts on this topic yet to come in time. Prompt me if you want it sooner though.
—
Image ref. First Encounter 375
Post syndicated from http://ahnz.anarkiwi.co.nz/1642-continents-suspected-deep-in-the-south/.